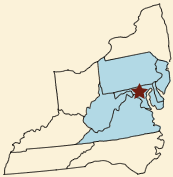 Metropolitan Meat, Seafood and Poultry is the Mid-Atlantic's leading family-owned and operated center-of-the-plate and specialty food distributor. Located in Landover, Maryland, Metropolitan has been supplying the most distinguished hotels, restaurants, caterers, country clubs, and retail stores since 1945.
Read more about us ›
Take a video tour ›
Video Tour of Metropolitan Meat, Seafood & Poultry
Product Spotlight
News
May 1, 2015
Find us on Social Media: Facebook, Twitter, Instagram, LinkedIn, and Google+
April 28, 2015
Metro News Coming Soon
March 29, 2014
Metropolitan Meat, Seafood and Poultry is proud to be a Licensed Distributor of the Certified Angus Beef Brand!
Market Update
Featured Supplier